Product Update: Introducing Session Trimming
As the PitcheroGPS community continues to grow, we're constantly looking to improve our app and introduce new features. We've listened to your feedback and are excited to introduce Session Trimming & Splits.

We understand that you may not be active the entire time your tracker records data. This provides you with skewed statistics. To negate this, we've introduced a new feature to allow you to more accurately control your session and view the data that matters the most.

Whether you want to remove time spent before or after a session, cut out half-time from your latest match, or focus on active time during training - session trimming lets you view the data that matters.
Getting started with Session Trimming
You can edit any recorded session you have up to date or a new session as you upload it. To get started open the trim tool, you can find this under the ☰ icon at the top right of your session. Tap trim and this will open the trim tool. Tap on the chart and slide the edges of the highlighted area to select the data you'd like to include in your session. You can tap additional times to add multiple splits.
After saving, any data that's not highlighted will be removed from your session data. You can go back into the trim tool to change your selections at any time.
Stuck? Feel free to reach out to our helpful Customer Support team at support@pitcherogps.com and we'll be happy to help.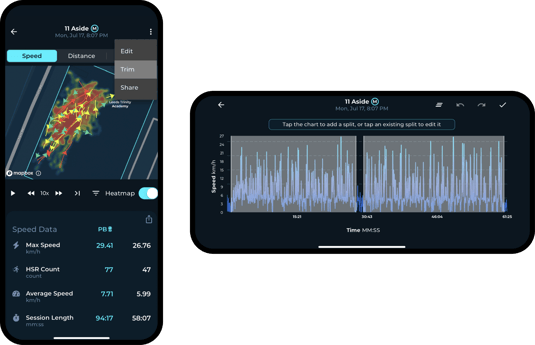 Send us your feedback
We're always looking for ways we can update the app and bring new and useful features to the community. Get in touch and let us know what you'd like to see next.
PitcheroGPS Player Bundle
Have you got your Player Bundle yet? Join our growing community and record your Speed Distance & Intensity with the UK's #1 GPS Sports Tracker for grassroots athletes.